Limited Edition Power Plate Golf Package
Improve Your Golf Game in 8 Minutes Using The Power of Vibrations

Power Plate Training Can Help You:
✅ Hit the Ball Further
✅ Improve Your Accuracy and Hit More Fairways
✅ Recover Faster
✅ Avoid Injury

This Package Includes:
Limited Edition Matte Black Power Plate MOVE

Power Plate Vibrating Roller

Power Plate DualSphere

Power Plate Slam Ball

Power Plate Pulse Massage Gun
Access to the Power Plate Golf Training App designed by a former Nike Golf Performance Specialist
The Problem Is In Your Swing.
Did you know that the golf swing is one of the most dynamic movements of any sport? The rotational force on your body during a swing can be as much as eight times your weight. And yet, most of us step up to the tee with tight hips and a weak core without even knowing it. Ultimately, you're putting your muscles, tendons, and joints under significant stress every time you hit the ball. And if you're not addressing the weaknesses in your biomechanics, then you'll never be able to increase your distance and launch the ball further down the fairway.
Unlock the Power of Vibrations
Our PrecisionWave™ tech uses vibrations to train your balance, flexibility, and strength when doing traditional exercise - helping you get twice the work done in HALF the time.
Increase Bone Density
Burn More Calories
Improve Muscle Recovery
Improve Circulation
Improve Flexibility
Activate More Muscle Fibers
What People Are Saying About
Power Plate's Vibration Technology
Mark Wahlberg
Award Winning Actor and Director
"I've been a satisfied customer for over a decade, so I decided to get involved in spreading awareness about their game-changing products."
Serena Williams
U.S., Australian and Wimbledon Tennis Champion
"On tour, playing back to back matches is tough on your body. Being ready the next day is the difference between winning or losing. If I can accelerate the recovery and healing process, I have a definite advantage. With my Power Plate, I have that advantage."
Dr Hilary Jones
GP Doctor and Health Expert for The Sun on Sunday
"I have used the Power Plate machine both for fitness training and for remedial sports treatments such as shin splints, muscle stiffness, over exercise, backache and groin strain, and have been really impressed with it...I am also planning to introduce Power Plate training to my mother who suffers from osteoporosis."
Clint Eastwood
Award Winning Actor and Director
"Many things come and go in this industry but the Power Plate machine is here to stay. It is a fast and effective way to stay in shape. Power Plate is a fast and effective strength workout and I like it before a round of golf because it helps me be loose and flexible."
Hilary Swank
Oscar Winner, Actress
"Grant Roberts, my trainer for Million Dollar Baby, suggested I get a Power Plate because my schedule doesn't always allow the time I would like for exercise. I love that with the Power Plate, I can get a full work out at home in next to no time. I really am impressed with the machines ability to target and recruit specific muscles and improve my flexibility at the same time. It just feels good."
Elle MacPherson
Supermodel, 5 Cover Appearances for Sports Illustrated Swimsuit Issue
"I love my new Power Plate. Even after only 2 weeks on Power Plate I can already see a difference in my legs and stomach. It is really working, everything seems so much firmer. I love the fact that I can see results in such as short time with such little effort!"
One Machine. Endless Benefits.
Burn Fat Quicker
Tighten Skin
Increase Strength
Increase Circulation
Improve Core Strength
Activate More Muscles
Improve Flexibility
Improve Bone Strength
Power Plate vibrates up to 50 times a second sending tiny vibrations through your body. These tiny micro vibrations activate more muscles, burn more calories, improve circulation, and assist muscle recovery.
Best in Class Features
PrecisionWave™ Technology
Multiple Time Selectors
Remote Control
Portable
Textured Surface for Maximum Grip
Adjustable Modes
Power Plate® Is Used by the World's Leading Health Practitioners
Dr. Edward Forman
Dr. Karen K Bloom
Dr. Terence Braden III
PrecisionWave™ Technology
Power Plate's patented PrecisionWave™ Technology is engineered to activate the body's natural reflexive response to precision vibration, engaging the muscles in a consistent and controlled manner that results in accelerated training benefits. Among the benefits offered by using Power Plate are increases in blood flow, metabolic rate and improved balance.

Use of Power Plate has also been shown to improve muscle strength and flexibility, as well as help improve bone health. Power Plate's effectiveness has been proven in dozens of medical and scientific studies as well as clinical rehabilitation and wellness facilities, sports performance centers, and are currently utilized by a vast majority of professional and collegiate sports teams in the US and many others around the world.
SHOP NOW
See What Power Plate Trainers & Users Are Saying
Frequently Bought Together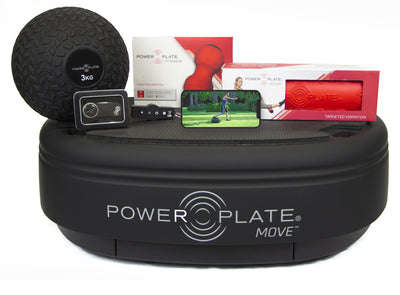 Limited Edition Power Plate Golf Package
Compare Different Power Plate Models
Can't decide which model is right for you? Power Plate has a range of models to support your every need from the compact and portable Power Plate MOVE to the fully-equipped robust my7. See the Power Plate lineup of whole body vibration plates, and easily compare their features and differences.
LEARN MORE
See Why Customers Love Power Plate®
Frequently Asked Questions
One of the most common questions that we get is "Does it really work?" The answer is yes, Power Plate is used by world class athletes like Serena Williams, F1 race car drivers, PGA golfers, NFL players and everyday folks.
No, we designed them so that they are not annoyingly loud. Targeted vibration products are remarkably quiet and designed for home use.
In general, our customers purchase targeted vibration products to cope with everyday muscle pain and soreness. However, we have customers who use them to treat conditions such as: Fibromyalgia, Neuropathy, Sciatica, and nerve pain.
No, the majority of our customers are just people who suffer from chronic muscle and joint pain. Our products are designed for everyone, but as a result of the physical benefits they are increasingly popular with athletes and fitness buffs as they are often more prone to injuries.
Targeted vibration products gave multiple vibration modes ranging from a gentle shake to a strong vibration. The strong vibration is for those seeking a deeper tissue treatment. There is no reason to worry about the vibrations being too powerful as you can use the setting that you feel most comfortable with!